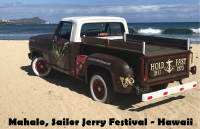 Sailor Jerry Festival ART SHOW 2021
Time: 10:00am Day: Saturday Doors: 9:00am Price: FREE

For more info:
https://fb.me/e/2E8aAQR05
With the blessing of the Collins Family, the annual Sailor Jerry Festival began on the island of Oahu in 2015. It grew larger and larger every single year, until the Covid-era arrived.
We've included an art show, music, comedy, burlesque, neighborhood tours, tattoo specials, skateboard exhibitions, fashion shows, pin-up contests, and more.
Last year, for the 6th installment to date, we were forced to do a much
smaller-scale livestream-only event, or nothing at all, so we streamed!
This year we will likely focus entirely on the art show aspect of the usual festival, since the event is meant to be a tribute to the man, his legacy,and his ties to Oahu, but also his influence on the industry & the art form.
That said, we want to open things up, and therefore we are looking to
feature Sailor Jerry inspired art & artists from all around the world.
Our plan is to set up an online art gallery from the festival website.
The Art Show for the 7th Annual Sailor Jerry Festival will launch June 12th, 2021
This is a not-for-profit art show, for everyone, just 'doin it for the love'
It's gonna be a virtual / online art exhibit.
< All Rights Reserved by Artists >