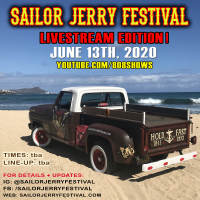 Sailor Jerry Festival Covid-19 edition live broadcast
FREE & Details coming soon!
Time: 6:00pm Day: Saturday Doors: 5:00pm Price: FREE
Sailor Jerry Festival Covid-19 edition live broadcast.
Due to the "safer-at-home" guidelines and requirements that last thru the end of June, we will only be able to do a live broadcast.
Details & times TBA
Follow us on instagram and facebook.
We will still have a festival this year if we can. Stay tuned for a new date for that, but see you online for June 13th!.
A message about the Sailor Jerry Festival 2020:
Latest:  we held out in the spirit of 'the show must go on' for a while now but we have good news, bad news, and more good news. First, the bad news... the 6th annual fest will not take place in its normal glory on June 13th for obvious reasons BUT we are working on a later date verses a cancellation, if that becomes possible later on, AND we are planning a FREE live broadcast of some kind for the original date of June 13th, 2020. We may even make this a new regular reoccurring feature. Hoping to incorporate many of the usual aspects... such as music, comedy, art, and burlesque. We'll keep working at it (the show must go on after all!) and we'll share more news as well as a full schedule later... so stay tuned as they say. It's just that with an eye on everyone's safety first and foremost, and new rules in place such as the recently extended 14 day quarantine for anyone arriving by plane, we simply have to pivot. We will work to get our mainland visitors rescheduled and they do plan to make it here eventually so fear not. Anyway, those of us here behind the scenes wanted to give you a formal update. That's more good than bad yes?! We wish you all the best and of course want to ensure you're kept safe. Hope you're doing well. Make good choices. More news to come.