Choose Showtime to Buy Tickets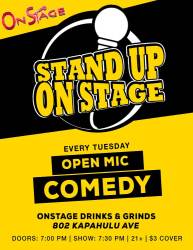 Local Comedy - Open Mic
Ages: 21+ Ages
This Event Has Ended
Honolulu's Stand Up Comedy Scene continues to thrive & shine. Jose Dynamite & Patrick Tyrrell, the co-promoters of Comedy U (Comedy U Wednesday named BEST COMEDY NIGHT, by Honolulu Magazine's "BEST OF HONOLULU 2017"), have teamed up with Jasmine Bautista, comedian & entrepreneur of "Just Being Honest Greeting Cards" to create a brand new night of stand up comedy, called "Stand Up On Stage" which occurs weekly, on Tuesday Nights.
"Stand Up On Stage" is an open mic comedy night at On-Stage Drinks & Grinds, on Kapahulu. New and experienced comedians can sign up for stage time, and will be assigned either 4 minute sets or 7 minute sets, depending on their level of experience. The show will feature "double sign ups", so that the comedians may get on stage a second time and work to develop their acts.
LOCATION:             On Stage Drinks & Grinds 802 Kapahulu Ave.
ADMISSION:           $3 At The Door
FIRST SHOW:        Doors 7:00pm/Show 7:30pm
AGE:                        21 & Over ONLY
INFO:                      www.comedyuhawaii.com or www.facebook.com/comedyu.hi
For more information about the show e-mail: josefigueras@ohanabroadcast.com or www.facebook.com/ComedyU.HI